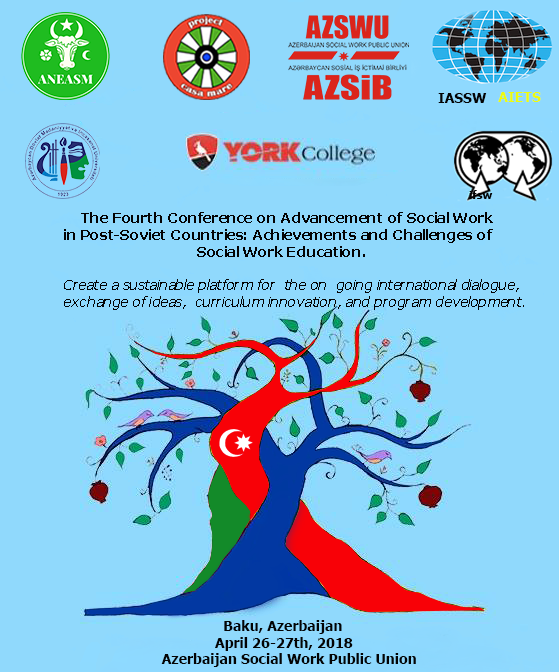 Deadline March 15th - CALL FOR ABSTRACTS : Baku, Azerbaijan
March 7, 2018
The Fourth Conference on Advancement of Social Work in Post-Soviet Countries: Achievements and Challenges of Social Work Education will be held at Baku, Azerbaijan
Date: April 26-27th, 2018
Create a sustainable platform for the on going international dialogue, exchange of ideas, curriculum innovation and program development.
Social work practitioners, educators, and students from post-Soviet countries and their colleagues from other realms have been meeting annually since 2015 to discuss common challenges and opportunities. The social work profession was practically absent during the Soviet times and we all had to start from scratch to address the dire and complex social problems associated with the transition away from the planned socialist economy. The progress in advancement of social work in post-Soviet countries is uneven but we benefit from sharing our challenges, tackling common problems, and arriving at collaborative solution. This event, as the previous three conferences in Chisinau and Tbilisi is dedicated to improving social work education, taking advantage of opportunities for social progress, and building professional solidarity among social work practitioners, educators and students in the post-Soviet region.
The Conference is organized by the Azerbaijan Social Work Public Union, International Association of Schools of Social Work, Azerbaijan State Culture and Art University and National Association of Social Workers in Moldova.
Goals:
Identify common challenges of social work education in the post-Soviet realm;
Promote the standards-based social work education;
Identify and promote best models of social work education curricula;
Create a sustainable platform for the ongoing international dialogue, exchange of ideas, curriculum innovation, and program development.
If you have any questions, please contact us at info@azswu.org.Khanbala Ahmadli

PR and Networking Coordinator, Azerbaijan Social Work Public Union

More informations: Azerbeijao CALL-FOR-ABSTRACTS-Final-version